Pole Barn & Horse Barn Kits In Connecticut
Bordered by parts of Rhode Island, Massachusetts, and New York, Connecticut is a diverse state in many ways, especially in terms of how land is used. While known for its thriving urban cities like Hartford, New Haven, Norwalk, and Stamford, the state is also peppered with rural beauty and acres of farmland. In fact, the many rural areas and small towns, particularly those in the northeast and northwest corners of the state, are a mix of historic architecture and sprawling landscapes with colorful vegetation, rolling hills, and acres of farmland. So, it should come as no surprise that there are many benefits of adding a pole building to your property if you live in Connecticut.
Fast, Affordable Storage Solutions
Whether you have a home in the suburbs of Hartford, Waterbury, or Derby, or an abundance of farmland near Bridgeport, there will always be a need for storage space. Still, you may not be thrilled about the idea of dealing with the many steps involved with the traditional construction.
With our pole barn or garage barn kits, you still get a structure you can use to store everything from extra vehicles and landscaping supplies to seasonal items and feed for livestock and crops. You just won't have to deal with costly foundation work. Plus, you'll have more opportunities to add insulation for added savings.
This is why we think you'll appreciate the versatility of the pole building kits available from New Holland Supply. Fully customizable and available in many different sizes, our kits can serve many purposes. What's more, you'll be making a smart investment since our kits are economical and easy to set up.
Flexible Storage for CT Homeowners & Farmers
According to the U.S. Department of Agriculture, there are nearly 6,000 farms in Connecticut. If you're a farm owner in The Nutmeg State, our pole barn garage kits can a perfect place to store tractors and other types of farm equipment and vehicles. A horse barn can be an equally wise investment if you need a safe, spacious area to keep your horses and related supplies.
Sturdy and functional, our kits can be as rustic or modern as you want them to be. You'll be able to customize every detail of your structure, from the footers and trusses to the number of windows, style of door, and materials used on the roof.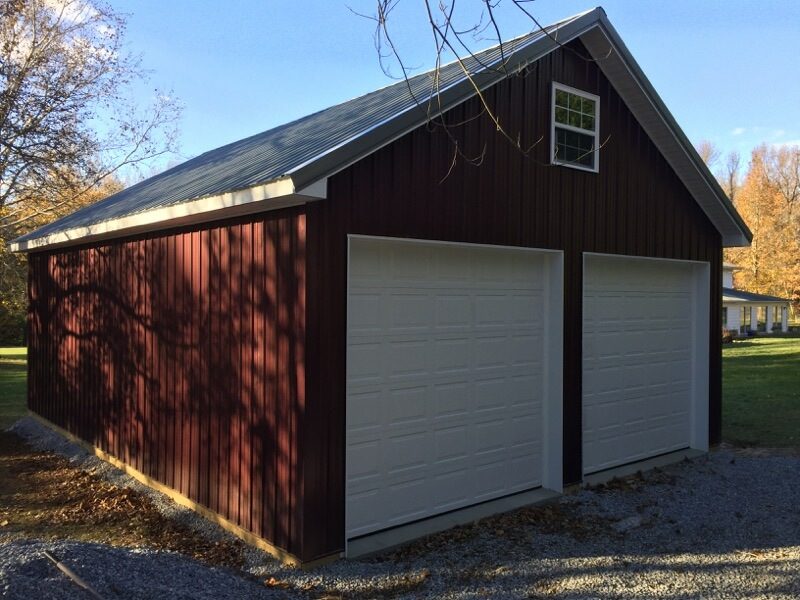 Pole Sheds and Garages
You don't have to live right in the heart of Connecticut's farm communities to take advantage of our pole barn kits. Our sheds and garages can be just as useful on residential and commercial properties within the state's urban hubs. For instance, if you're a business owner, our garages can be an ideal location to keep company vehicles or excess inventory. Our pole structures can even serve as a unique storefront for your small business.
If you're a Connecticut suburban homeowner, one of our pole structures can be a great way to add some personality to your property — not to mention some extra space for your vehicles or other items you may need to securely stash away.
Convenient Shelters for Your Horses
Connecticut has the greatest density of horses in New England. If you happen to own horses in parts of the state where there's plenty of room to keep horses, like Greenwich, Durham, Kent, or Willington, an easy way to provide shelter for them is with run-in sheds from New Holland Supply.
These attractive, visually appealing structures can provide year-round shelter for horses, ponies, and other types of livestock. A divider can also be added to the front to keep your horses inside. The possibilities with our run in sheds and fully enclosed horse barns are nearly limitless.
Cozy, Stylish Interior Barn Doors
Are you among the homeowners in places such as Middletown, Groton, and Ansonia looking to add character and style to your indoor living spaces? If so, then consider the possibilities with our interior barn doors. Traditional swinging doors, for example, can be replaced with our sliding barn doors for added beauty and function.
The New Holland Supply Difference
Our pole barn garage kits and horse barn kits come with everything needed to complete construction quickly and efficiently. If you're an adept do-it-yourselfer, all you'll have to do is prepare the site and start putting your structure together. Construction crews also tend to appreciate our kits since assembly is just as easy for pros.
If you're ready to explore the possibilities with run-in sheds, pole barn garage kits, or other types of pole buildings, New Holland Supply has what you'll need. Not able to visit our location in New Holland, PA? Not a problem. We deliver to all parts of Connecticut.
Contact us today to learn more about our versatile, cost-effective pole building solutions.