Pole Buildings vs. Stick-Frame Buildings
Built on-site, stick-frame buildings are fairly common. But this isn't the only option to consider when building structures like horse barns, garages, and utility buildings. Pole-frame construction involves the use of wood posts that transfer loads from the primary framing structure to the foundation. Walls are non-load bearing and the pole supports the building's weight. Pole barn kits are popular since they can be customized to specific preferences with size and building purpose in a more efficient and affordable way than what can be done with stick-frame construction. When you consider the many appealing aspects of construction based on the strategic use of poles, it's easy to see why pole buildings come out on top when compared to stick-frame buildings.
Savings On Pole Building Foundation Costs
With traditional stick-frame construction, foundation costs typically exceed total construction costs by about 10-15 percent. The framing member with a pole barn garage or other pole-based structure is the posts, which are buried about 4-6 feet deep. All that's needed to set these poles in place are drilled holes supported by backfill and footers. Foundation costs are also lower with pole-frame construction since:
Huge amounts of concrete don't have to be poured
There are fewer costs related to time and labor
Extra preparations for a basement aren't needed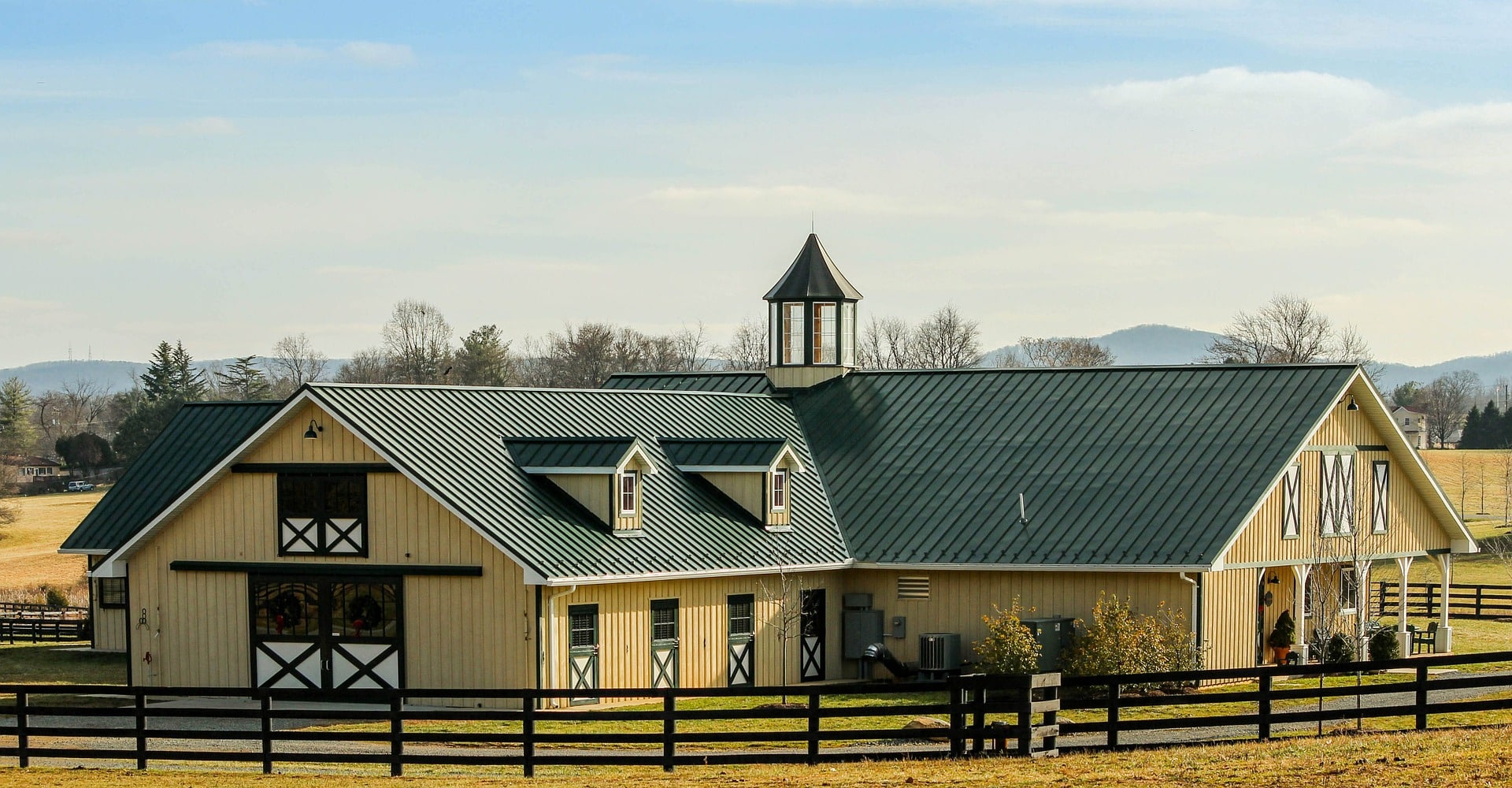 Adapting to Multiple Site Conditions
Stick-frame construction is largely dependent on the condition of the soil. On the other hand, a pole barn building with a post-frame system can be built on just about any site. Pole structures are designed to adapt well to varying interior and exterior soil wall pressures. The major savings here comes from not having to deal with extensive excavation costs or expenses related to the creation of an extensive concrete foundation system.
Adding Additional Features Is Easier
Pole barns can have many different architectural features added to the basic structure, such as porches and overhangs. It's also easier to put these features onto a building when there aren't stud walls to deal with, as is the case with stick-frame buildings.
Faster, Safer Construction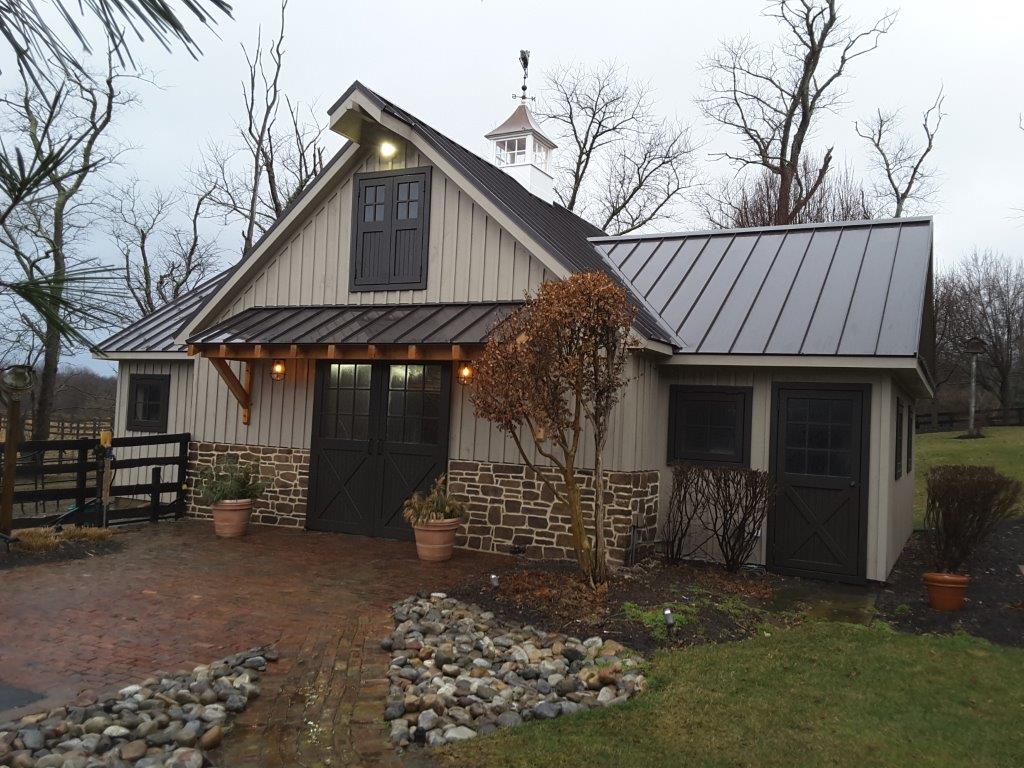 Fewer components are used for pole structures. Because of this style of construction, buildings can be completed in shorter time, further reducing costs and minimizing delays. Additionally, pole structures don't always need a completely flat foundation, which can mean less time for prep work. If you do have an uneven foundation, a common solution is to add gravel inside and do a final grade post-completion. A simpler construction approach also means there will be fewer safety hazards.
Larger Openings for Windows and Doors
Agricultural, commercial, and suburban buildings typically need to have enough room to allow for sufficient airflow for animals and/or equipment. Larger openings for windows and doors may also be necessary to move equipment and supplies in and out more efficiently. Unlike stick-frame buildings, pole structures can be designed with on-center spacing that's in excess of 8 feet without the need for costly reinforcements and headers.
Better Structural Stability
A well-constructed pole building is incredibly durable. Such structures are able to handle weather conditions that would normally damage stick-frame buildings. With conditions like strong winds and heavy snow accumulated on the roof, the loads are transferred directly to the ground via the posts. Because of the way poles bear loads, pole garages and barns tend to offer more protection for what's kept inside during storms.
Larger Open Spaces
Because of the way pole structures are built, larger open spaces can be created much easier than what would be required to achieve the same design with stick-frame buildings. The building's clear-span wood trusses also negate the need for inside support walls. With a pole barn garage, for instance, you could create a larger space for multiple vehicles without the need to add extra supports.
Increased Energy Efficiency
Pole barns, garages, and buildings don't have as many thermal breaks as stick-frame buildings. Posts can be better insulated, which further increases energy efficiency potential. Ultimately, this means utility costs are likely to be lower for times of the year when cooling or heating is needed.
Building Higher Walls
The added stability of pole structures and the larger structural members of these buildings allows for walls to be higher than stick-frame buildings. This is particularly appealing if you want to easily add another level to a pole barn or garage for extra storage space.
In a nutshell, pole-frame construction is easier than stick-frame construction and the resulting structures are often stronger and more affordable. The entire process is even faster when pole barn kits are used by pole barn builders. Whether you're looking for a spacious spot to store and work on your vehicles, a place to store garden supplies or landscape maintenance equipment, a handy place for extra household storage, an agricultural facility with good airflow, a workshop, or just a spot to relax and unwind, pole buildings are quick, budget-friendly solutions. Working with experienced pole barn builders can further streamline the process and boost your savings potential.