How to Choose the Right Custom Barn Door
Whether you're planning on building a small pole barn for your equipment or a large horse barn for 20 horses or more, choosing the right custom barn door and horse stall materials for your property is a must! In addition to the functionality only a quality custom barn door can provide, the right door will also look great and add to your barn's visual appeal.
However, for many equestrians, choosing the right custom barn door is easier said than done. From Dutch doors and carriage-style sliding doors to decorative pole barn garage doors and everything in between, the design and style options are truly endless these days. Here are some simple steps to narrow the field and help you choose your perfect barn door:
Find Custom Horse Barn Inspiration
The first step in choosing the right custom barn door is simply finding inspiration. There are endless examples of barn doors just waiting to be discovered and get your wheels turning.
Not sure where to start? Try taking a drive through the countryside. Short on time? Forget the car and peruse our website gallery instead. By taking ideas from us or others and making them your own, you're sure to end up with a beautiful custom barn door that works for you.
---
Determine the Right Type of Custom Barn Door for Your Needs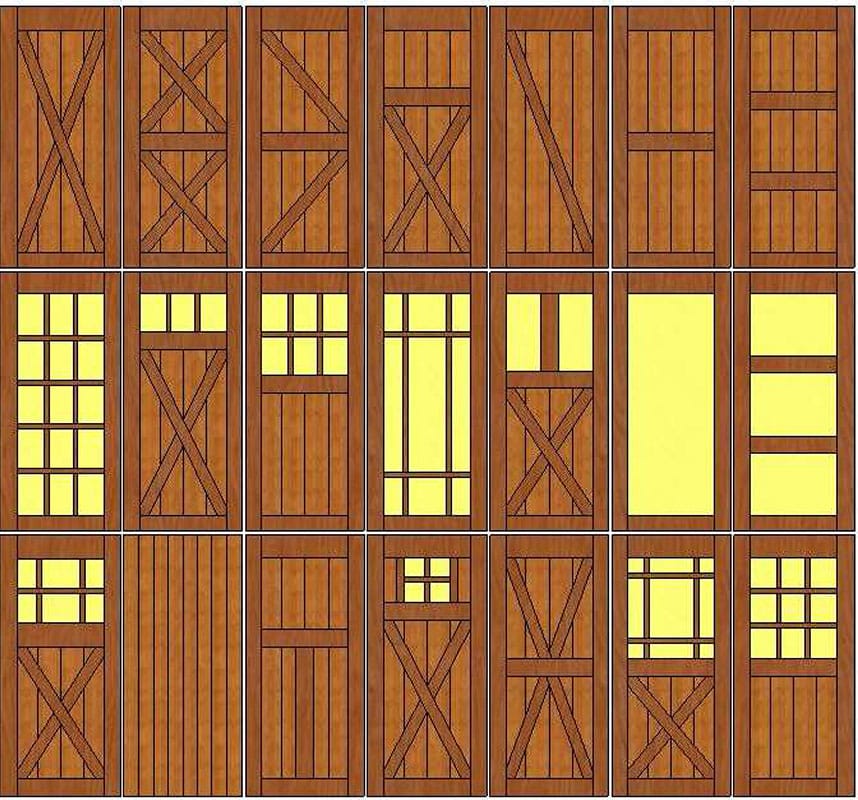 Custom barn doors come in a variety of styles and designs. Therefore, to determine the right door for your barn, you need to first pick the right type of barn door for your property and your needs. The most popular options include:
Custom Sliding Barn Doors
Custom sliding barn doors can be crafted for the interior or exterior of your barn in any size and a variety of beautiful wood species. Both exterior and interior sliding barn doors can feature arched or square tops, a bevy of hinge and hardware finishes, and several styles of glass to customize your barn door to your specific tastes and exact specifications. As the ultimate blend of function and form, it's easy to see why exterior sliding barn doors are the most popular option for many of today's barn owners.
Barn Dutch Doors
Dutch doors can add old world charm to any barn. With solid bottoms and tops that can swing open to provide a secure yet light and airy environment, they're a popular choice for equestrians looking to spoil their horses and improve the aesthetics of their barns. Based in Lancaster, PA, New Holland Supply specializes in barn Dutch doors. Check out our gallery for some examples of our wonderful work.
Custom Interior Barn Doors
Custom interior barn doors will make an impressive statement as soon as you walk in. With a variety of wood and design options to choose from, interior barn doors can transform the interior of any facility into a showpiece. Why stop with the exterior when our interior barn door options are second to none?
Exterior Sliding Barn Doors
Exterior sliding barn doors are good looking, easy-to-use, and extremely customizable. Available with single or dual-sliding doors, optional windows, shiplap center rails, and a variety of other design details, they can be customized to look and work perfectly with your barn.
Horse Stall Doors
Horse stall doors are a must for nearly every barn. Featuring thick solid wood, a variety of grill and design styles, and optional powder coating as well, we have the horse stall doors you're looking for. From Virginia to Connecticut, our doors can be found in hundreds of barns all along the upper East Coast.
Pole Barn Garage Doors
Pole barns are typically smaller than traditional timber and post barns, and as such, they require different doors. In fact, while pole barn doors can be made to slide or crafted in Dutch fashion, carriage-style pole barn garage doors are by far the most popular for these smaller spaces. Designed to roll right up like a car garage door but feature custom craftsmanship and details, our pole barn doors provide functionality and timeless good looks.
---
Decide on the Finishes
Last but not least, you need to decide on the finishes. Do you want your Dutch door to be the focal point of your white barn? Try painting the trim white and the rest of the door a bold solid color like "Barn Red." Would you like your new custom sliding door to blend in seamlessly? Try minimalizing the trim and going with a color similar to the rest of the barn.
Whatever you choose, don't forget the details. Trim, paint, and other barn door finishes can make a big difference in the overall look and feel of your barn.
Quality Hand-Crafted Barn Doors
At New Holland Supply, we hand-craft custom barn doors that look great and stand the test of time. Made by highly skilled craftsmen in beautiful Lancaster County, PA, our doors are unparalleled in quality. Whether you've found an existing door you would like to replicate or want a completely unique custom design, we have the experience and expertise to make your concept a reality. Contact us today!