Enjoy Building a Run-in Shed Using a Kit from New Holland Supply LLC!
Do you love keeping horses, donkeys, llamas, alpaca or other backyard livestock? Your animals return the personal care and attention you give to them many times over! Now you can enhance their well-being by choosing an attractive, portable DIY run-in shed kits from an experienced Pennsylvania supplier.
Excellent Run In Shed Kits
We offer several finely crafted construction products, including custom doors, metal roofing and siding, and great lines of pole barn and full horse barn kits! You'll appreciate the ease of assembly. Our run-in sheds shipped cost effectively throughout the Mid-Atlantic, so you can obtain all the supplies required to create a professionally-designed, easily relocated freestanding shelter for your outdoor pets.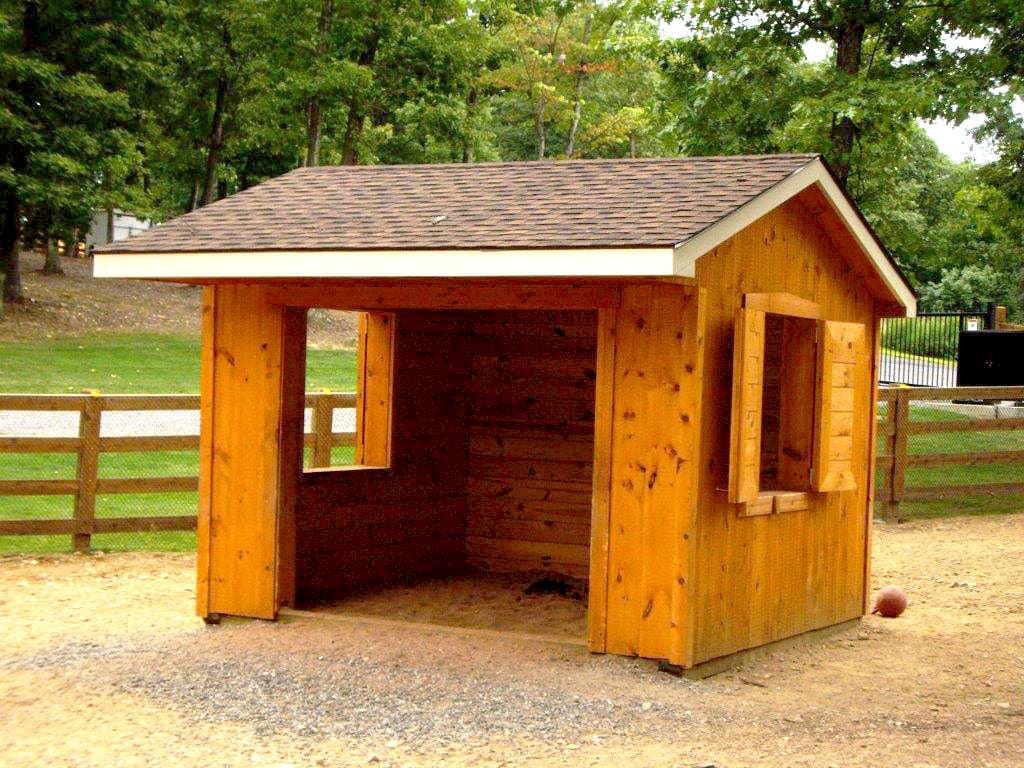 Versatile Run In Shed Kits
If you've ever assembled a barn or other outbuilding, you certainly appreciate the vital importance of careful planning. Your horse run-in shelter from New Holland Supply LLC reflects our years of experience helping livestock owners erect safe, secure quarters for large animals. The basic kit cross sections and the high-quality materials permit even inexperienced builders to produce an impressive structure.
Paying a contractor to build a new shed on your property often involves significant expenses and delays (most full-time builders maintain busy spring and summer schedules in order to take maximum advantage of daylight). By constructing a horse shelter yourself, you'll enjoy full control over your timetable and costs.
Just consider some of the advantages our versatile kits offer:
Pressure-treated lumber employed wherever the horse run-in shelter contacts the ground;
Wood or metal sides, with metal, moisture-resistant roofs;
Trusses with overhangs;
Choose optional 2 x 8 tongue-and-groove kickboards;
Build a structure you can relocate easily (tow hooks available);
Create a layout you prefer, either open or half-open with an enclosed stall on one end;
Select from a variety of optional accessories: bucket holders, hay racks, chew guards, and even grilles with feed holes.
A Great DIY Project!
Building run-in sheds can become a wonderful hobby. You'll increase property values and also have fun using your construction skills to create a comfortable horse shelter. Just imagine the sense of accomplishment completing a worthwhile construction project brings. Gain a sense of pride every time you see your animals enjoying one of these portable structures!
Our DIY pole barn and horse barn kits enable people to practice building skills, too. For instance, if you've searched for a great project to interest a youth group or a volunteer organization, then ordering one (or more) of these run in shed kits could provide hours of productive team-building activity. Even people without any formal construction experience can contribute to one of these excellent DIY projects successfully.
Our Attractive Run-in Sheds
A well-designed horse shelter helps transform residential real estate into a functional hobby farm. Use our kits to create useful outbuildings. These products work well in a multitude of different settings. Since we offer portable run in shelters, customers enjoy many options for relocating or re-arranging these mobile mini-barns as additional animals arrive. You'll gain a sense of personal accomplishment, knowing you've built a solid, secure structure to help shield your livestock from rain, snow and beating hail.
Speak with us to discuss ways to augment one of these useful projects with important livestock accessories. By spending a little time exploring the Gallery section of the New Holland Supply LLC website, you may discover some exciting ideas to help you enhance your facilities. Visit us often to see new equestrian products.
Contact Us
To order your horse run-in shelter kit, simply call 717-354-4794 today!  A New Holland Supply LLC sales representative can speak with you about your order Monday through Friday from 6:30 a.m. until 4:30 p.m. EST.