The Smart Benefits of Detached Garages
Your house may be perfect in every other way, but if it's missing a garage, you're losing out on convenience, flexible storage, and more. Fortunately, adding a garage to your property is easier than ever. If you're trying to decide between a free-standing garage or one built onto your home, we're here to help. We're highlighting the key benefits of detached garages – and why they are our pick for the smartest way to add the extra space you need.
At New Holland Supply, we sell extremely high-quality garage kits that homeowners all over the East Coast trust. Learn more about the benefits of detached garages – and see what you can build when you work with us. Keep reading to take a closer look at these practical advantages or talk to our sales team to start designing your custom kit!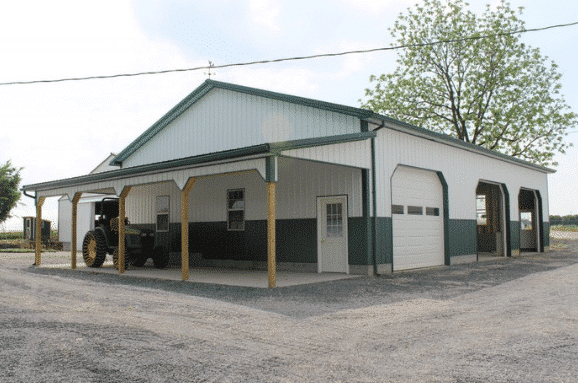 7 Reasons to Choose Free-Standing Garages
Whichever style you choose, you're going to have the space for your cars and trucks as well as anything else you need. However, opting for a free-standing garage means that you'll save money, prevent headaches, and enjoy a better all-around space. These are the main advantages that you need to consider before making your choice:
More Affordable – For many homeowners, this is the most important benefit of a detached garage. Compared to having to build a full garage onto your existing house, building a completely separate, free-standing structure takes far less time and is a much less complicated construction project. This means that you can expect the project to come with a more budget-friendly price tag.
Opportunity for a Larger Size – When you design a free-standing garage, you're only limited by the footprint of your property, as opposed to what will fit directly onto your home. So, if you want a double-wide garage (or an even larger one), that's easy to accomplish with a free-standing structure. See the most common garage sizes and find your fit.
Second Story Possibilities – In addition to being wider, the free-standing style makes it easier to go taller as well. Building a detached two-story structure from the ground up is much simpler than attaching a new build to your home in multiple places. A partial loft or a full second floor is a popular addition with many of our barn kits. These spaces are used for everything from an extra storage space or workshop to a finished apartment or in-law quarters.
More Style Options – Your new garage is going to be a permanent part of your property, so make sure you love the look. When building a space onto your home, making it look like a natural part of the original design can be difficult. However, when building on a brand new detached garage, you can create a unique style you love that isn't bound by what your house looks like. We've seen homeowners create some truly exceptional designs, from elegantly modern spaces all the way to rustic garages that look like barns!
Separate Space – This is one of the benefits of detached garages that most people don't realize they'll appreciate until they go to finish the space for either a home office or an apartment. By having your garage as a separate space for a home office, you have your work close at hand – without feeling like you're bringing it home with you. The separation can also be a great advantage if you want to turn the garage loft into a living space for one of your kids' first apartment!
 Safer for Everyone – Garages tend to be extremely safe no matter if they are attached or free-standing. However, in the unlikely event of a fire in your garage, having it away from your home and family is an important factor. While this is a very unlikely outcome, it can be important to consider if you plan on frequently working on cars or doing other mechanical work.
 Easier to Find the Room – Finding the open space to add an attached garage onto your home can be a serious challenge – especially if you live in a neighborhood. However, a free-standing garage simply needs open space and nothing more. This gives you the opportunity to have a garage even if you live in a row home or have very close neighbors.
Want to build your space without breaking the bank? Check out our guide to budget garage and pole barn kits.
Options to Customize Your Garage
When designing your free-standing garage kit, first you're going to want to plan the basics like the size, the layout, and the number of windows and doors. Once you've made all of those foundational choices, you get to the fun part: customizing the looks with all the extras and accessories you need. These are just a few of the most popular garage add-ons that make it truly your own:
Siding Colors
Siding Wainscotting
Trim Colors
Decorative Garage Doors
Roof Colors
Snow Guards
Cupolas
Weathervanes
Custom Lighting
Stone Veneer
Much More!
Get Prices on Detached Garage Kits 
If you're ready to bring the benefits of detached garages home, we're the team to work with. The first step is to reach out to our design experts to discuss your needs for a new garage, including the style you like and the options you want to explore. Not only will our team help you finalize your design – but we'll give you a price for the kit to make it yours.
Reach out right now to get free-standing garage prices!