Must-See Metal Board and Batten Garages
The authentic board and batten look paired with practical benefits of metal siding. While true board and batten can only be had with wood, our metal board and batten garages mirror the look, in a super strong metal material. Dig into the exciting style – and must-have advantages that make our garages a great addition to any property!
At New Holland Supply, we sell wood and metal building kits that homeowners, ranchers, farmers, and professionals trust. Check out the unique style of our board and batten garages and explore the four big benefits that make metal siding a popular choice for garages!
Benefits of Board and Batten Metal Siding
Traditional wooden board and batten siding is made of flat boards held together with batten strips over top of the joints. While this style was originally meant to protect the joints, the visual style has earned widespread admiration and sees use on all different kinds of structures. Our board and batten garages have ribs that closely resemble the battens, providing that much-loved aesthetic. While the look may be rustic, board and batten metal siding boasts several advantages that only come from metal: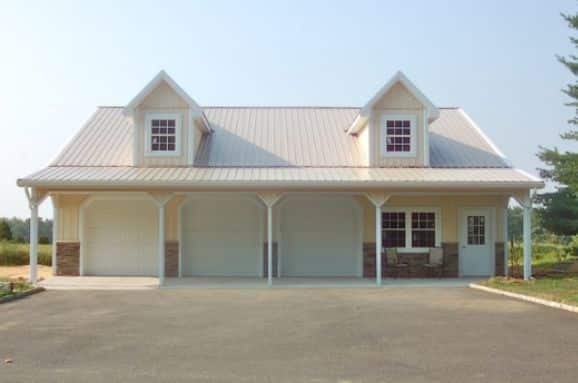 Immune to Rot, Mold, & Bugs – There's no question that wood is a stellar building material – in fact, many of our horse barn kits are wood. However, there are a few potential problems with it: mainly its propensity for rot, mold, and wood-boring insects like termites. Metal siding is impervious to all three of these common problems, which can ensure your garage lasts longer with fewer problems!
Strong and Fire Resistant – While you certainly hope to never make use of this advantage, it's good to know it's there. Compared to wood siding, our board and batten metal siding is fire resistant and can slow down the spread of an out-of-control blaze. Sometimes homeowners and business owners care about this if they plan to fix cars or have a workshop in the space. Even if you don't, though, it's just a little extra peace-of-mind!
No Need to Paint or Stain – Over time, paint or stain will fade, which both weakens the wood siding and presents a dull color. Thanks to the ultra-strong, fade-resistant metal, our metal board and batten garages never need to be painted or stained. This means you'll save both a few thousand dollars and a few dozen hours painting it sometime down the road! Learn how a well-maintained garage boosts property value. 
Great Color Options – Just because board and batten metal siding isn't painted doesn't mean there is a shortage of color options. You can choose from a wide range of base colors from dark green, white, tan, gray, and more. Even better, two-tone color schemes provide even more interesting styles to enhance your outdoor curb appeal.
Other Custom Garage Options to Inspire You
While board and batten metal siding is one of our difference-makers, it's just the beginning. When you design a garage kit with New Holland Supply, you have ample opportunities for custom touches inside and out. Adding extra doors and windows is one of the most common upgrades – plus, building a loft or second story is always a great idea. From a cosmetic standpoint, you can add touches like gorgeous stone siding, custom garage doors, and barn-style cupolas!
Get Prices on Our Board and Batten Garages
If the look of our board and batten garages as well as the advantages grabbed your attention, we'd like to talk to you. Our designers will work closely with you to craft the exact size and layout that meets your needs and your budget. Plus, when it comes to adding the accessories and upgrades that make your structure look truly unique, our designers can share popular options and even design something completely custom for you. After that, we'll get you the final price for the garage kit that will become the structure you rely on for decades.
Reach out right now to talk to our team and to get prices!