Exploring Garage Kit Prices
Your new garage will provide you with the space you need – whether it's for housing your vehicles, storing your stuff, or giving you a place to work on your hobby. If you're in the market for a new modular or prefab garage on your property, the cost is probably the number one question you have. In today's blog, we're sharing our garage kit prices and breaking down what you get for each price tier.
At New Holland Supply, we supply high-quality garages and horse barn kits for homeowners and farmers across the country. When you partner with us, you can get an elite garage kit for less than $5,000.
Since we supply based on your needs, our structures range from the small and practical to the large and luxurious. Keep reading to get an idea of our average garage kit prices – or reach out to our team to order your garage kit today.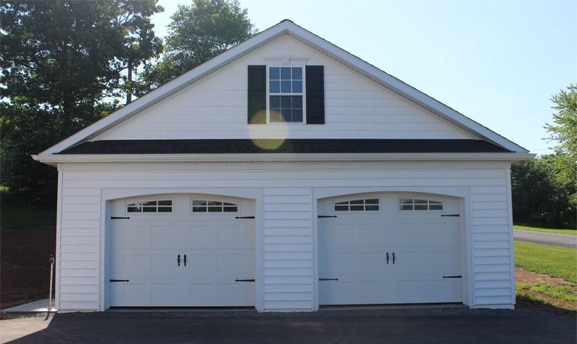 What Should a Garage Kit Cost?
Any garage kit cost is primarily determined by the size and by the extras and accessories that come with it. While your exact garage's price may vary, we want to be able to give you real, useful estimates to help you plan your project.
All of our standard garage kits come with painted metal sides and roof, an overhead garage door, flush gables, as well as a full entry door. These are our standard garage kit prices for the most popular sizes:
20′ wide x 24′ long x 10′ of usable height – $4,425:
Available at an unbeatable price point, this modest-sized garage works well as a one-car garage or an alternative to a large shed.
24′ wide x 32′ long x 10′ of usable height – $5,775:
One of our most popular sizes by far, this modular garage provides plenty of room for a single car as well as other outdoor equipment or your other belongings.

30′ wide x 40′ long x 10′ of usable height – $7,700:
This spacious two-car garage provides ample accommodations for two vehicles in addition to a large amount of storage. If a customer needs a large garage, this is the size we recommend.

40′ wide x 60′ long x 12′ of usable height – $14,950: Coming in at the highest standard modular garage cost, this structure is much larger than most homeowners often need. However, it can be the ideal dimensions for a large workshop or used for storing a fleet of equipment for a landscaping business.
All of these garage kit prices cover the full kit with the standard accessories. Adding more doors and features to your structure will increase the price. While we do not build our kits for customers at New Holland Supply, we are able to recommend several contractors local to your area who can give you quotes to do so. In addition, many of our customers choose to – and have success – building their own garage.
Love horse barns? See some of our favorite barn styles.
Garage Add-Ons that Affect Price
Now that you have an idea of our standard garage kit costs, let's discuss the most popular add-ons that can make your space more stylish and more practical. We offer a deluxe garage package that includes 3 windows, overhangs on all sides, ridge vents, and wainscoting for style on the siding.
While you can work with our team for pricing on individual upgrades, the full upgrade package costs around $2,000 to $3,500 extra depending on the size of your garage. If you have other questions or ideas about customizing your garage, reach out to a member of our team.
Get Your Garage Kit Price Quote
Whether you need a garage for your car, a place to store your valuables, or a home headquarters for your business, we're here to help. The next step is reaching out to get a garage kit price quote. Our team specializes in designing high quality garages that meet your needs and match your budget.
Reach out today to discuss what you need and find out exactly what your garage kit cost will be!