Exploring Lean-To Garages and Barns: Benefits of Adding-On
Lean-to garages and barns appeal to a wide range of homeowners and hobby farmers as they make the space more practical, more comfortable, and more stylish. Since this is such an effective and in-demand add-on, we're highlighting the advantages and breaking down how much adding a lean-to garage or barn impacts the budget of your build.
At New Holland Supply, we specialize in crafting elite-quality pole barn building kits that are used for horse barns, garages, and more. Custom additions are a key part of our building process and we often work closely with customers to create 100% custom kits. Keep reading to learn more about lean-to garages and barns – or reach out right now to discuss your project with an expert!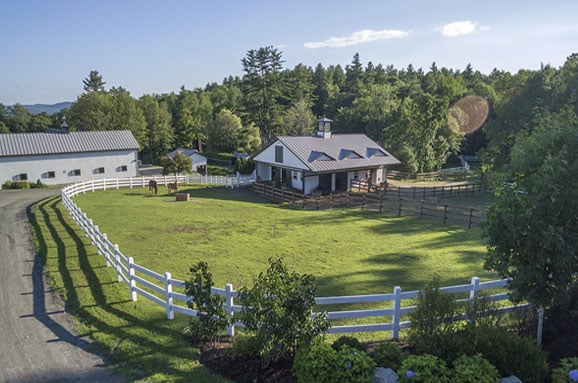 4 Benefits of Lean-To Barn Kits & Garage Kits 
Attaching a lean-to to one or more sides of a barn or garage creates one or more overhangs that resourceful farmers and homeowners put to use. These are the key reasons that lean-to barn kits are great investment to consider:
Easy Equipment Storage – More storage is always an advantage. The overhang can create great supplemental storage by providing protection from rainfall and direct sunlight. While you might not want to store priceless heirlooms under a lean-to, it is the perfect place to store everything from firewood to outdoor equipment. This is a good reason alone that a lean-to is a great choice for barns and garages alike. Wondering if a new barn or garage increases property value? Get the answers right here.
Shade for Horses — For stable owners and hobby ranchers, this is a key reason to invest in a lean-to barn kit. When the horses are out to pasture around your barn, the lean-to allows them to get a break from the hot sun. Adding a lean-to will make your horses more comfortable and mean you won't need to keep as a close an eye on them.
Work in all Weather —If you have work to finish, the random rainstorm or snow spell can be extremely inconvenient. Adding a lean-to to one or more sides of your barn or garage creates a large, fully-covered outdoor area perfect for sheltering from the elements. Our lean-tos are often large enough to comfortably accommodate several people working side-by-side.
Creates a Great Rustic Style — This might not be the most practical benefit, but that doesn't mean it isn't important. Lean-to barn kits and garage kits have a distinct rustic look, just like a classic frontier horse barn. In addition, the overhang also creates a more interesting profile for any barn or garage. We always say that style matters – after all, your new barn or garage is going to be around for decades, so it's important you like the look! Explore the most popular horse barn styles.
Digging in to Our Kit Prices
The practical and style advantages offered by lean-to garages and barns make them a popular inclusion. Unless there is an issue of space needed to accommodate the lean-to, there's little reason not to include one if your budget can allow for it.
While every kit and project have unique requirements, we can give you ballpark pricing on what a lean-to barn kit costs:
Adding a simple lean-to with an unfinished roof to a structure adds between $2,500 and $3,000 to the overall price.
Adding a lean-to with a fully-finished roof adds between $3,500 and $4,000 to the total budget.
To estimate your total project price, check out our modular garage kit prices and pole barn kit prices.
Get Quotes on Lean-To Garages and Barns
Building a new barn or garage is a big investment in your property and a huge decision to make. Doing your research and consulting with the experts is a key step in the process. Whether you are ready to get a price on your lean-to garage or barn – or you simply have questions – our team is standing by to help.
Reach out today to start the conversation and to request custom quotes on your barn or garage kit!