Two-Story Horse Barn Benefits
For committed equine enthusiasts and those who make their living from their herd, a two-story horse barn may be the only choice for your new barn. When you're deciding between a large one-story and a two-story structure, there are some key benefits you need to keep in mind. That's exactly what we're highlighting in today's blog: the 7 key advantages of two-level barns.
At New Holland Supply, we design exceptional quality horse barn kits – modest and massive – that serve horse hobbyists and professionals alike. Keep reading to see some of our most beautiful barns of all time – and to learn about the unexpected reasons to choose a two-story barn. However, if you're ready to take the next step right now, reach out to discuss your plans and to get a price from our expert designers!
7 Reasons to Love Two-Level Barns
Stately two-level barns offer the aesthetic advantages and practical perks that make them the perfect option for many businesses and ranches. Over decades in business, we've designed countless two-story barns for many happy customers. Check out these unique reasons to choose a two-level barn: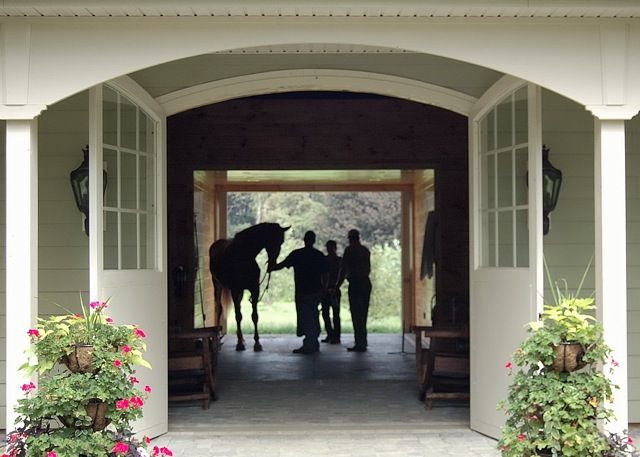 Living Space/Office Space: While the first floor is dedicated to the horse stalls you'll need, the second level can be used for your own personal space. One of the most popular uses for the space is an office to host meetings and conduct stable business. We've also seen the second level of a two-story horse barn used as living quarters – either as a backup for yourself or as a job perk for a team member.
Observation Area: Whether your barn is outfitted with an indoor riding arena or you have a clear view of the pasture, the second level of a barn makes for a perfect observation deck. This is especially important for business stables so that proud parents can watch their children ride around the pasture.

Extra Storage: An extra level can mean nearly double the storage space. If the bottom floor of your barn is used up with stalls for the many horses you board, then you'll need to find somewhere convenient to store everything that keeps a barn going. Having a second level provides you excellent close-at-hand storage for everything from equipment to hay!

Hay Hole: Speaking of which, one of the advantages of two-level barns is that you have the option of adding hay holes. These second story features allow you to drop hay directly onto the first floor, or into stalls, from the second level storage area. Think about this upgrade as being like a laundry chute for hay!
Classic Style: While almost any barn kit we design will look beautiful, there is a certain classic American aesthetic that comes from a two-story barn. You can see this distinct look in the extra high cupola, the dramatic tall peaks, and the curved gambrel style of the roof only possible in a two-level barn. See the trending pole barn color schemes.
Deck/Overlook Option: By having a second story on your barn, you have the option to include one or more decks or overlooks. These areas give you another place to unwind and to admire your property. The main difference between a deck and the observation area, is that a deck lets you enjoy the outside while the others ride.
Better Natural Light: More stories equate to the potential for more windows and thus more natural light. Not only will the ample windows make for a striking style, but the natural light will make working in the barn more comfortable – and even reduce your electricity bills.
Ready for even more barn inspiration? Explore our photo gallery!
We Offer Garages and So Much More
While a gorgeous two-story horse barn may be eye-catching and headline-making, we offer so much more as well. We bring the same quality to all of the pole barn kits and garage kits. Whether you need a sprawling 30-stall barn or a sturdy structure to park your truck, you can count on the building quality of New Holland Supply.
In addition to our signature structures, we also have a custom door shop on our premises. Here, our expert craftsmen build gorgeous barn doors for interior and exterior use. Placing unique orders with our door shop is just as easy as with our barn builders!
Get Your Two-Story Barn Quote
The first step to building your dream-come-true two-story horse barn is a conversation with our designers. Our team will work to create the perfect design for your project – and give you a free quote. We're more than happy to work back and forth with you, ensuring that the final product – and the final price – are a perfect match for your needs.
Reach out today to start the conversation and to get your two-level barn price quote!