The Benefits of Metal Roofing & Siding
The process of choosing the right material for your new barn or garage can be an exhausting one. There are hundreds, if not thousands, of options, and they all have their pros and cons. However, there is a material that seems to stand above the rest: metal. At New Holland Supply, we have metal materials available in all of our pole barn kits. Metal roofing and siding bring a plethora of advantages to the table, and there are plenty of reasons why metal is among the most popular choices for roofing and siding materials.
Advantages of Metal Roofing
As anyone home or barn owner knows, the roof is arguably the most important aspect of the structure. It stands as your main defense against harsh elements like thunderstorms and blizzards. Some metal roofing materials can sustain wind gusts up to 140 miles per hour without bending or breaking. Unlike other roofing materials, metal roofs will not corrode or crack, therefore increasing longevity. In fact, metal roofs can last from 40 years to upwards of 70 years, compared to asphalt roofing that has a life expectancy of 12-20 years. This longevity plays a key role in keeping costs down, not just in the cost of replacing the roof itself, but also your energy bills. Metal roofing reflects solar radiant heat, which can reduce your energy costs by 10-25%.
In addition, metal roofing materials are much more environmentally friendly than asphalt shingles and other materials. Metal roofs typically have anywhere from 25-95% recycled content depending on which particular material is chosen. Better yet, metal roofing materials are 100% recyclable at the end of their lifespan, whereas shingle tear-off waste ends up in the waste stream.
Metal Siding Benefits
After the roof, a building's siding material is arguably the next most important decision to make. Like a roof, siding serves as a defense against snow, rain, wind, and extreme heat. Metal siding does not absorb moisture, nor does it promote the growth of mold or fungus, both of which can be detrimental to other siding material options.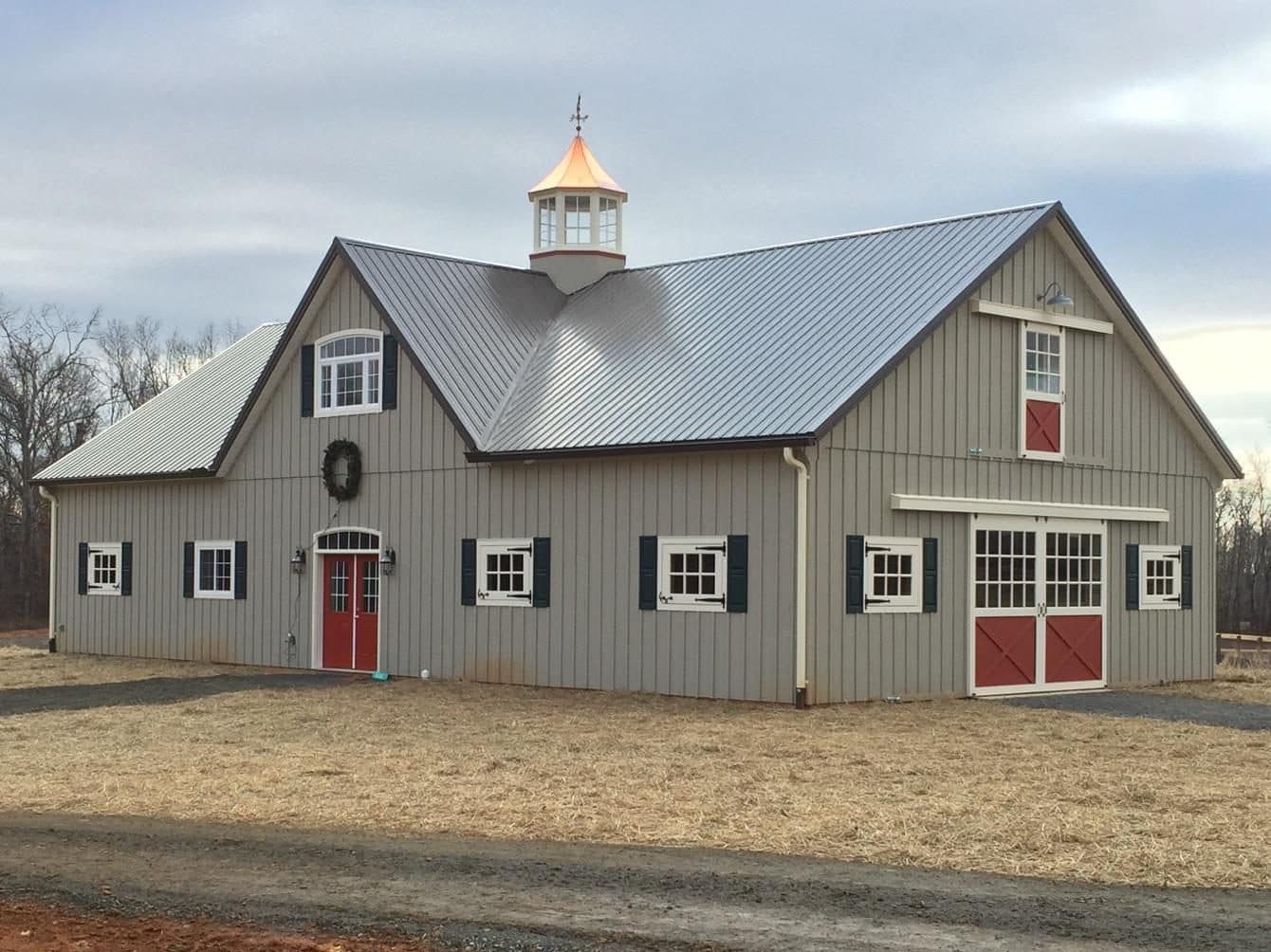 Metal siding is also very low maintenance compared to other siding materials such as vinyl, which often needs repair or maintenance after long periods of wear and tear. While some people may be turned off from metal siding materials due to their looks, they actually have come a long way in recent years. At New Holland Supply, we have a wide array of colors for you to choose from to ensure the materials you get are exactly what you are looking for when customizing a garage or horse barn kit.
Unlike other siding materials, metal does a great job of keeping out insects and other bugs. This helps keep costs down over time since you won't need to regular spraying to keep the bugs out. In addition to being bug-resistant, metal siding materials are also fire-resistant. Even if your metal barn or garage were to get struck by lightning, there is an extremely low possibility that the building would catch on fire. This can sometimes lead to lower monthly insurance premiums. Finally, metal siding is often less expensive to purchase and install than other siding choices, making it more economical than other material options.
Why Metal Roofing & Siding Stand Above the Rest
It is clear to see that there are numerous reasons why metal roofing and siding are perfect choices for your next barn or garage. They are durable, long-lasting, and aesthetically pleasing. When choosing metal roofing or siding, you can rest assured that you will get strong materials that will stand the test of time. If you are looking to build a new barn or garage, choose New Holland Supply for your metal roofing and siding materials. Give us a call at 717-354-4794 or fill out a contact form today to get started!