Steel Garages: The Smart Choice for Storage
If your home didn't come with a garage or you simply outgrew the one you have now, you've got options. Our steel garages provide standout durability and style for a great price and can be installed almost anywhere. Discover why this is a smart solution to your storage challenges.
At New Holland Supply, we sell a wide range of garage kits that homeowners and business owners rely on. Our kits are customizable and easy to build for less. Discover why steel garages are such an efficient solution for storing your valuables and equipment.
5 Reasons to Love Metal Garage Buildings 
The two main styles for detached garages are vinyl and steel. Vinyl garages have a very similar look and feel to what you'd find on the typical home or garage. On the other hand, metal garages tend to have a heavy-duty professional feel that comes from their ribbed metal siding. Both are fantastic choices for certain projects, which is why we sell both. Here's why steel garages may be the right choice for you:
Extreme Durability – Metal garage buildings are built tough to provide you decades of weathertight storage. How durable are they? The metal siding typically comes backed by a 40- or 50-year warranty. This ensures that whatever you need to store stays secure as long as you require. Plus, if a piece of the garage should get damaged, replacing an individual panel is easy and affordable.
Easier to Install – If you're assembling the garage kit on your own, then this advantage is essential. While vinyl garages will require a plywood backer in order to hang the vinyl siding, metal buildings won't. This cuts out the lengthy step of installing that backer.
Can be More Affordable – Since less material is needed to build one of these metal garage buildings, the price is often lower than building a vinyl-sided garage. Not only is vinyl siding an expensive material, but the prices on plywood have been spiking since 2020. Simply using ultra-strong steel siding often leads to noticeable savings on your project.
Low Maintenance Needs – One of the best advantages of any steel structure is that you can expect it to be very low-maintenance. Unlike a wooden structure, you won't need to regularly repaint or re-stain the siding to keep it protected from the elements. Not only will it stay protected from rot and mold, but the metal panels will still look attractive as they age.
Tons of Custom Options – Any barn kit or garage kit you'd get at New Holland Supply will be able to be customized to your exact needs. Our metal garage buildings can be tailored to fit a visual style, the level of insulation you need, and far more.
Trust Us for All Your Building Supply Needs
While metal garage buildings are one of our top storage solutions, this is just the beginning of what you can buy from New Holland Supply. We also sell traditional vinyl garage kits as well as full wooden horse barns. We want to be the trusted resource for everyone from homeowners, to equestrian enthusiasts, and even small business owners. In addition to full kits, our team provides horse stalls, as well as snow guards for metal roofs and other cosmetic barn accessories.
Finally, our on-site custom door shop also builds high-quality barn and garage doors. These premium doors can be included in any of our kits or ordered on their own to augment your existing barn or garage. Some of our sliding barn style doors have become popular for use in interior spaces, too!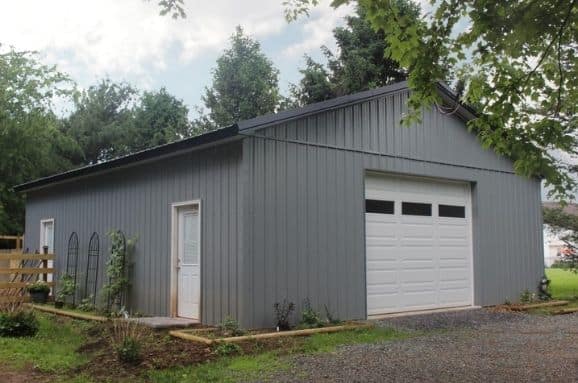 Get Your Steel Garage Kit Quote
When you want to bring the convenience, quality, and affordability of steel garages to your property, our team is here ready to help. So, whether you want to store heavy equipment, vehicles, or other valuables, we can design you the perfect blueprint and kit. Our knowledgeable designers can answer any of your questions and get you a custom quote.