Average Horse Barn Kit Prices & Dimensions
All horse barns have the same job: to provide a secure and comfortable home for your horses. However, there are a wide variety of different styles and sizes – which all fit vastly different budgets. We're exploring the most common kits we sell – and the horse barn kit prices that match.
At New Holland Supply, we sell a wide range of custom pole barn kits that work for a variety of different purposes, from compact, personal barns to huge professional stables. Check out your options for different tiers of high-quality kits – and get an idea of average horse barn kit prices!
Explore Common Pole Barn Kit Sizes
Size is the biggest factor that determines how you'll use a barn. While our team can design truly any horse barn kit you can envision, these are the most popular tiers of barns that most homeowners and professionals gravitate toward. See the average pole barn kit sizes, prices, and what they offer: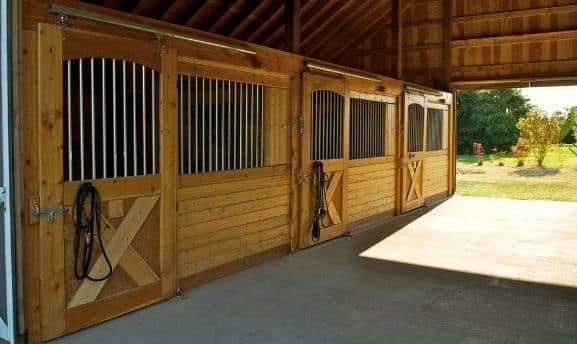 1. Shed Row Barn – Average Barn Kit Price: $18,000 to $20,000
Common Size: 3 to 4 stalls and a tack room
Shed row barns feature a stripped-down layout that makes them an economical choice for a new barn. While traditional barn styles place horse stalls in a large interior space, a shed row barn just features the enclosed horse stalls in the open air. While traditional barn styles are like apartment complexes with common areas, shed row barns are more like row homes. These are by far the most affordable horse barn options, but the lack of an interior space can make working with your horses in some weather unpleasant. When it comes to the shed row style, the pole barn kit sizes will be smaller and more space efficient – perfect for smaller pastures.
Get Quotes on Shed Row Barns >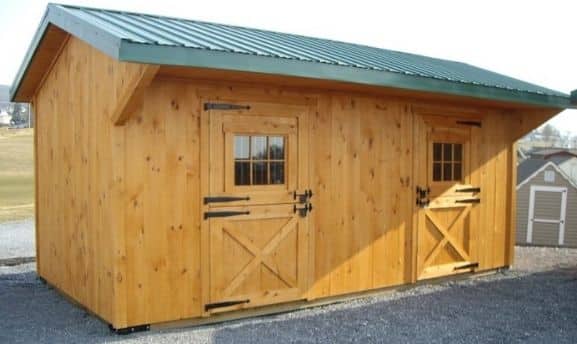 2. Full Center Aisle Barn – Average Barn Kit Price: $35,000 to $40,000
Common Size: 6 stalls, plus a tack room and feed room
The most popular type of barn, these are the structures that you often see dotting the countryside at farms and stables. The most common dimensions are 30'X40' and 30'X48', allowing room for a large center aisle with 3 stalls on either side. This style and added size allow for housing more horses (in 10'X10' or 10'X12' stalls), as well as having more dedicated storage space – especially if you build a second story. But the benefits don't stop there – not only do these barns provide you with a full interior space, but they also have a much statelier profile as well!
Get Quotes on Full Barns >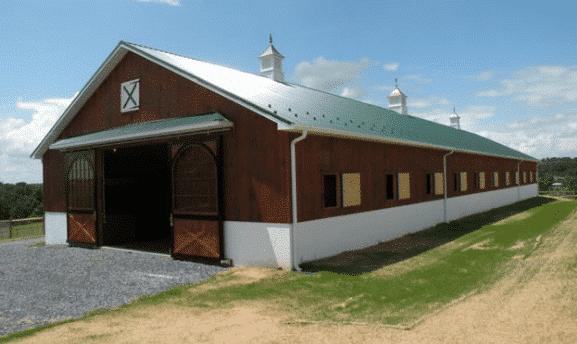 3. Upscale Luxury Barns – Average Barn Kit Price: $60,000 to $200,000
Common Size: Made-to-Order
Every single one of these upscale luxury barns are a thing of beauty. Whether these spaces are used as enormous working stables or personal luxury barns, the outcome is the same. Often built with a second-story loft, these spaces deliver a spacious interior floor plan that can house a large number of horses – in a gorgeous eye-catching style. On top of that, these sprawling structures often include an attached riding arena which allows you to ride in all weather types. The beauty isn't just relegated to the exterior either – the interiors of these spaces tend to have fully finished tack rooms, offices, trophy rooms, and even entertaining spaces. Determining the price on a barn like this is challenging as we've seen the price even reach the $300,000 to $400,000 budget mark!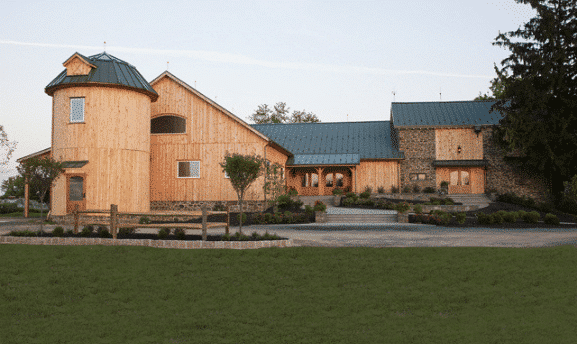 Custom Touches & Options
While these horse barn kit price estimates are a good ballpark figure and a good place to get started, factoring in custom features will impact the price, too. When designing your kit with our team, you have access to a huge range of custom add-ons and accessories. Some of the most popular accessories for horse barns include cupolas, weathervanes, extra windows, decorative doors, lean-tos, and different siding and roofing colors!
One thing that sets New Holland Supply apart is that our designers offer multiple free estimates allowing you to compare different styles, sizes, and custom options.
Get Your Exact Horse Barn Kit Prices
Does one of these barns match your style, your needs, and your budget? Great news – we can get you the exact horse barn kit price to build it. However, if you're still looking or you want to build something completely custom, we can help with that as well. The next step is to talk to our experienced team.
Send us a message or give us a call to discuss your project!