Glass Panel Garage Doors
A unique garage door is one of the most striking ways to enhance your outdoor aesthetic. Whether the garage is attached to your home or free-standing on your property, a style upgrade can improve the look of the entire garage. Glass panel garage doors are one of the most in-demand styles – see some of your options right here!
At New Holland Supply, we're a garage kit manufacturer and custom door workshop. We craft a wide variety of custom options including glass panel garage doors and barn doors meant for both inside and outside use. Get inspired by these gorgeous garage door styles – or talk to our team today!
5 Garage Door Styles (With Glass)
Glass panels are a component of almost all style-forward garage doors – and it isn't hard to see why. In addition to bringing natural light into garages, the panels make a unique style impression that few other garages in your neighborhood can match. See leading garage door styles and find your favorite:
1. Wooden Door with Top Panels – A classic-looking luxury garage door, this piece is sure to draw attention and admiring looks from almost everyone who sees it. The wooden doors get their character from their gorgeous dark brown stain, ornamental black hardware, and patterns in the wood. The glass panels at the top of the doors have a slight curved profile that adds to the elegant style of these truly deluxe garage doors.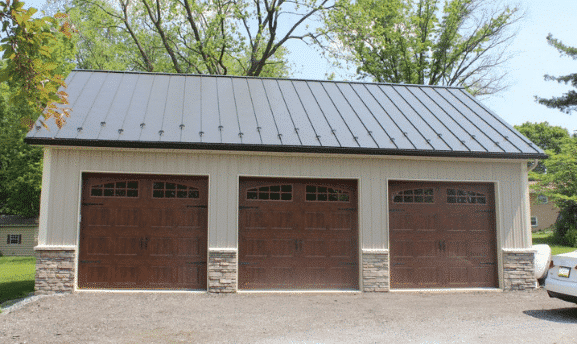 2. Tan Dutch Style Garage Door – This next garage door style has huge rustic flair that will make it the focal point of your entire garage. Due to the cross beams and hardware, this garage door closely resembles a Dutch door that you'd see on a horse stall or barn. The glass panels look at home in this design and even resemble many real barn doors. This door will complete a country barn-style garage or will make a suburban garage one-of-a-kind.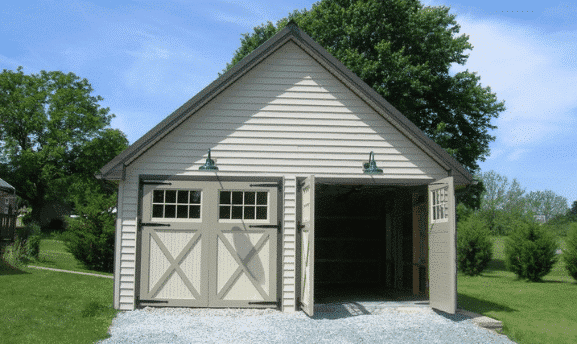 3. Centered Panel Glass Door – This glass panel garage door brings a highly ornamental style to a metal door. By placing the glass panels in the middle of the garage doors, it creates a very distinct, eye-catching look. Also notice how the shade of the door matches the wainscotting of the rest of the garage. See more barn and garage color inspiration!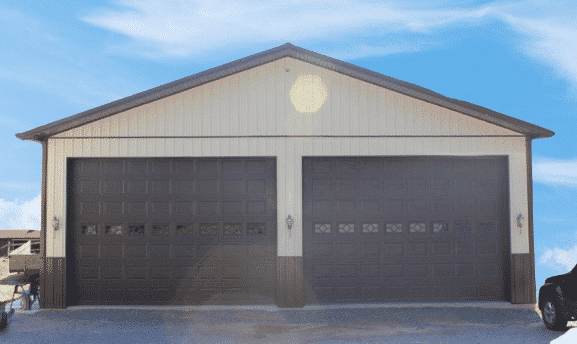 4. White Garage Door with Curved Top Panels – One of the most popular garage door styles you'll see, this design matches with and brings character to almost any garage. The slightly curved glass panels mirror the slight curvature of the door itself for a unique appearance. While this garage door may be something of a safe style option, it will still be a stunner in your neighborhood.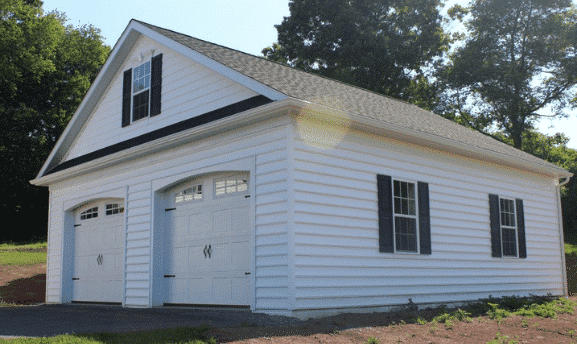 5. Tan Multi-Panel Doors – Discover a true garage door showstopper! Not only is this entire garage a remarkably attractive structure, but the garage doors are one of the stars of the show. Notice how the individual glass panels make up more than half of the main door itself for an ornamental pattern and great natural light. In addition, the tan door color and door design evoke a subtle country-style feel!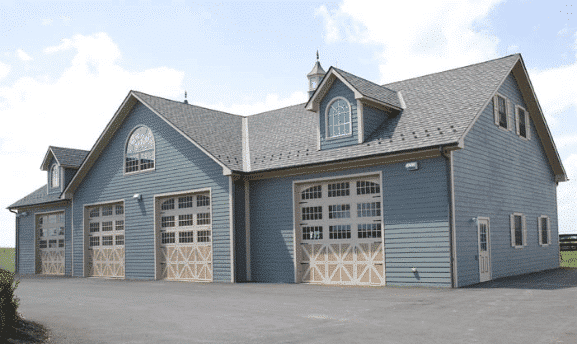 Elite Quality Garages & Barn Kits
While garage door style may be the focus of this blog, we are primarily known for selling elite garage and horse barn kits. These kits provide a custom design and all of the materials and extras you'll need to build the storage space you want. Homeowners, business owners, and farmers alike choose to work with New Holland Supply thanks to our skilled design team, competitive prices, and truly elite materials. If you'd like to plan a full structure from the ground up, our team is here to work with you!
Get Prices on Glass Panel Garage Doors & More
Whether you're building new or upgrading your reliable space, a glass panel garage door can provide a style that a plain door simply can't match. If any of these doors inspired you, reach out and we'll get to work. However, if you'd like to build a truly one-of-a-kind door, we'd love to design with you.
Give us a call or send us a message to get started right now!