5 Must-See Detached Garage Designs
No need to leave your car outside in all weather – and no more boxes of storage spilling out from an undersized storage shed. A new garage is the perfect answer for securely storing your vehicles, lawn equipment, boxes of stuff, and much more. You have ample opportunity to match your custom garage designs to your exact needs and space!
At New Holland Supplyv, we're known for selling high-quality garage kits that homeowners across the country rely on. In addition to the standout material quality, homeowners appreciate how our kits and garage designs can be fully customized to offer one-of-a-kind solutions. Check out the most popular garage types that we see – or reach out to our team to start designing yours and to discuss prices!
The Most Popular Garage Types to Choose From
When you're custom building a kit, you can choose almost any space, size, and style you want. As a first step, check out the garage types that the vast majority of our customers build:
One Car Garage with Partial Loft – This garage type is a smart solution when you only need to store one vehicle – but can make use of the extra area, too. While the loft may not be quite large enough to serve as an office or living area, you'll love being able to stack storage boxes there. This design leaves extra space on the first floor available for hand tools, bikes, and other small garden equipment.
✔️ Great for a Small Footprint
✔️ Full Loft Provides Flexible Space
✔️ Affordable Price
Two-Car Garage with Added Space – If your main reason for building a new garage is to keep your cars out of the elements, this may be the perfect fit for you. These garages often feature two separate doors, which provide added convenience. Since two average-sized vehicles take up the majority of the space, your options for storing riding mowers or other large power equipment on the ground floor will be limited. The added space above the main floor is more like a crawlspace than a loft, however, it can still provide the extra storage that makes all the difference.
✔️ Perfect for Keeping Two Vehicles
✔️ Affordable Price
✔️ Crawlspace for Some Added Space
Two-Car Garage with Full Loft – One of the most popular garage types, this style offers great potential on two levels. The full loft is the difference-maker in the detached garage design as it is nearly the same size as the first story. We've seen homeowners use the loft for a home office, an apartment, or for much-needed storage space. From a style standpoint, this garage looks great alongside your house or detached on your property. The full second story and high-pitch roof make for a tall profile that matches well with a variety of homes!
✔️ Perfect for Keeping Two Vehicles
✔️ Full Loft is Easy to Finish
✔️ Particularly Attractive Garage Type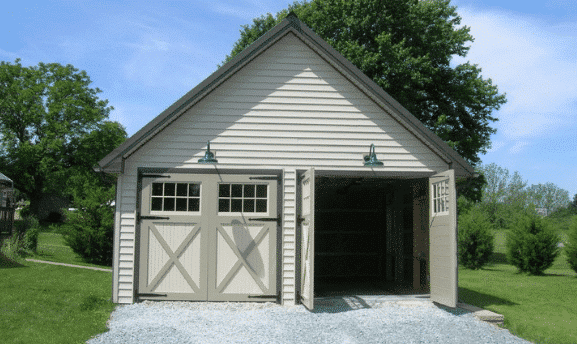 Two-Car Garage with Added Depth – This single story garage type is ideal for when you have big plans for making the most of your garage space – but also need to leave room for your vehicles. By opting for a standard two car width but extending the length, you give yourself crucial free space. We often see this extra area occupied by a personal workshop. Of course, this free standing garage is also great for storing heavy equipment, such as a riding mowers or ATVs, that are nearly as large as a car. To keep the price lower, these styles of garages rarely make use of a loft and often don't have as many frills.
✔️ Great for Home Workshops
✔️ Perfect for Keeping Two Vehicles + Other Equipment
✔️ Often Feature a No-Frills Design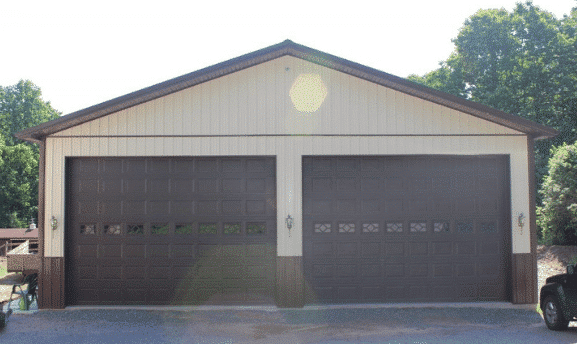 Three-Car Garage – The ultimate detached garage design for keeping cars and trucks out of the elements! This garage is popular with homeowners who have both a daily driver and a specialty vehicle – as well as parents who expect to have at least one of their kids' cars to house. By featuring three side-by-side garage bays and doors, this garage type is wider than it is long, which can make it easier to fit on certain lots. While it's unusual to add a loft into this model, a crawlspace is a common feature to provide a little extra storage.
✔️ Perfect for Keeping Three Vehicles
✔️ Wider Footprint
✔️ Crawlspace for Some Added Space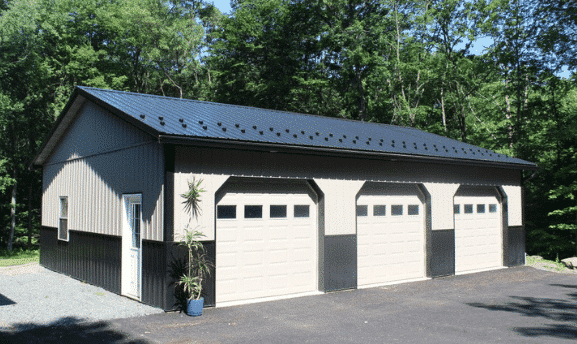 Customizing Your Garage Kit with Us
While choosing the garage type and selecting the dimensions are some of the most important custom choices you'll make, that's only the beginning of your options. When you design your garage kit with New Holland Supply, you have a full range of accessories and styles that create the aesthetic to match your tastes and your property.
These are some of the key add-ons you can choose:
Cupolas & Weathervanes
Snow guards
Siding color choices
Wainscotting
Extra doors & Windows
Discuss Garage Designs & Get Quotes
If you want to bring any of these detached garage designs home, you're in the right place. Of course, if you want to build a 100% custom space, our sales team is able to help you with that too. The first step to buying an elite garage kit from New Holland Supply, is to reach out to our team!