What is a Pole Barn?
Pole Barn Basics: What You Need to Know
If you need some extra storage on your property, you might want to consider building a pole barn. Before you decide to hire pole barn builders or purchase a DIY pole barn kit from New Holland Supply, you might want to learn a little more about what pole barns are all the ways you can use them.
The Basics of Post Frame Construction
You build pole barns using post frame construction, meaning you drive the poles or posts a few feet into the ground and serve as the primary part of the foundation for the entire building. Pole buildings are very reliable and sturdy yet constructed much quicker than a typical building, so they are also less time-consuming and much less expensive.
How are Pole Barns Different from Other Barns?
Besides the fast and inexpensive construction factors, pole barns have many advantages over other types of buildings, especially when you just need some extra storage or you have livestock that needs a place to live.
Simple Foundation Construction
Typical building foundations require clearing and leveling land and pouring a concrete bed. Unless you really need a concrete foundation, you can avoid this costly step. The only concrete you need is to set the footers for the poles. This is perfect for those who do not have a clear option for constructing a perfectly level concrete foundation and still want an extra building on their property.
Less Expensive Alternative
You do not need as much wood for building. Pole barns do not require the exhaustive framing and structural support needed by traditional buildings. They use fewer materials and are faster to build, which translates to less money in materials or labor costs, especially if you hire pole barn builders to do the job. The biggest part of the cost of a traditional building is the foundation. Pole barns do not need a concrete foundation unless you specifically need one, so you save a good bit of money.
Less Labor Intensive
Did you know you do not have to hire builders to construct a pole building? Because the design of these buildings is so simple, you can do it yourself, saving you the labor costs. However, if you do hire contractors, the labor costs will still be less expensive than building a traditional outbuilding or garage since construction is quick and easy.
Better Insulation and Air Quality
Pole buildings have wider spaces between posts, allowing for better insulation than a typical building. In addition, their design allows for increased air ventilation, which translates into higher air quality.
Pole Barn Garages and Other Uses
Typically when you hear the word "pole barn," you probably automatically think of a barn for horses or other livestock. However, you can use these simple buildings for just about anything. Here are some examples:
Pole Barn Garage: These easy-to-build constructions seem to pop up all over the place used as garages. A pole barn garage is easy to scale to the size you need so they are perfect for any size vehicle, including a camper or RV. You can also build one for your lawn tractor or boat.
Stables for Livestock: With their added insulation and natural ventilation, these buildings are perfect for livestock. New Holland Supply specializes in horse pole barns, so you can rest assured your horses, or any other livestock, will be safe and comfortable.
Build a Post-Frame House: The versatility and cost-effectiveness of these constructions make their uses endless. You can even use one to build a new house.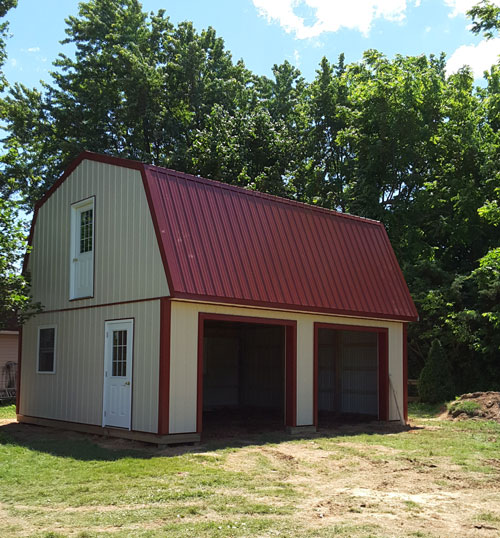 Pole Barn Kits for Sale
Regardless of what you want to do with your pole barn, you can save a good deal of money on labor costs by purchasing a pole barn kit. You can forget going to the lumberyard or a home improvement store for materials; everything is in the kit, including detailed instructions and blueprints, so you can get moving quickly.
New Holland Supply offers customizable kits to fit your style, for example, if you want a particular color or you need any type of doors or windows to complete your building. Ready to get started? Give us a call at 717-354-4794 or fill out a contact form today!