Modern Garage Designs in 2023
Combine curb appeal and convenience through a modern garage design that showcases your sense of style while protecting your vehicles from weather and damage. The right modern garage plan can inspire you to build a parking shelter that's perfect for your family or business.
Here at New Holland Supply, we know all about contemporary style garages. Our team supplies the BEST in building kits for value and quality. That's why we've created this guide to walk you through our suggestions for modern garage designs and organization tips.
Keep reading to take an in-depth look at contemporary garage designs or contact our team now to find your metal building kit for a contemporary garage!
Modern Garage Plans to Build Your Dream Space
The perfect modern garage plan can add the wow factor to your home or property! The foundation of any modern garage design is choosing the style you want to match your home or building.
Here are several of our top contemporary garage styles:
Rustic: Take a cue from the country and try a wood-paneled door with multi-paneled windows and oak accents to build your perfect modern detached garage.
California Bay: The San Francisco Bay is famous for homes built by renowned architects and a vibrant, colorful feel. Try a cottage-style garage door accented with a trellis of vibrant, hanging flowers to capture the bright and colorful mood of California.
Barn: Even a barn design can bring the flair of a modern-style garage. A black or charcoal garage door with a traditional carriage-style design can add a modern accent to classic homes.
Sleek: Sleek is a popular contemporary garage style, characterized by bold grays and blacks with clean horizontal and vertical lines. Your garage door can use glass with black horizontal slats and an anodized aluminum frame to give your home the right aesthetic.
Want to discuss your modern garage plans with a professional? Reach out to the team here at New Holland Supply to discuss your options for contemporary garages today and check out our project gallery to find even more garage inspiration!
Modern Garage Ideas & Tips for an Organized Space
An organized space is a happy space! You can complete your modern garage plan with ideas on how to store your supplies. The first step is to draft a layout of your garage interior based on the size. Then, we recommend you write a list of everything you do and don't want to store in your modern detached garage.
Then, you can start planning how to organize all of your supplies. Many modern garage designs take advantage of several types of organizational tools: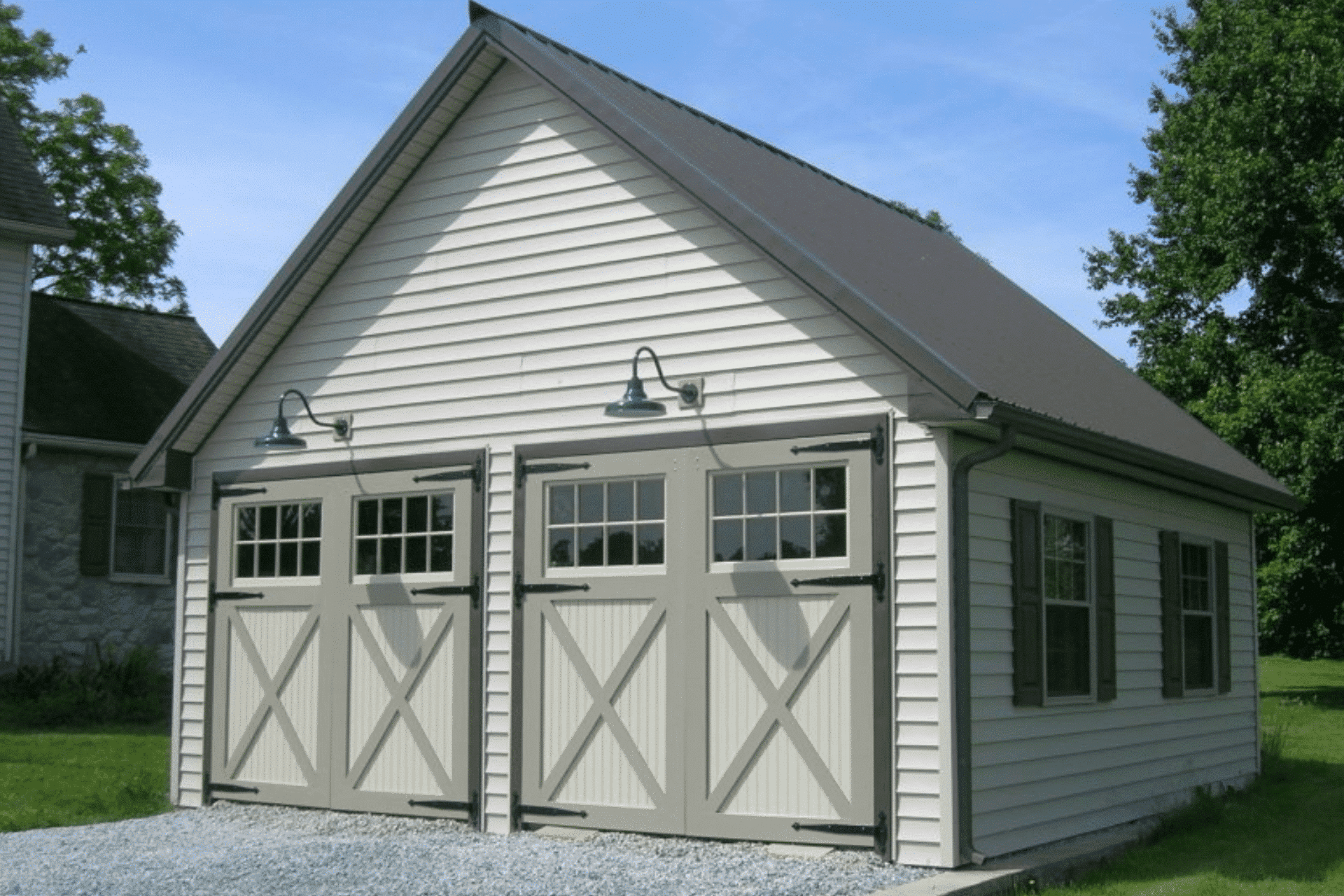 Hanging storage: A pegboard can keep your tools close at hand without taking up floor space in your modern style garage.
Ceiling space: Overhead storage is essential for storing flat, long items you don't use every day.
Cabinets: Cabinets can keep all your small parts, like screws, out of sight and out of mind until you need them.
Workbench: A fold-down workbench is perfect for DIYers to have a safe workspace that tucks away when not in use.
Ready to launch your modern garage design project? We'd love to hear from you and give you a pricing estimate. Contact New Holland Supply about your modern style garage today!
Related Reading: If you're liking our article, "Modern Garage Designs in 2023," learn more about "Exploring Garage Kit Prices" here!
Choose New Holland Supply Today to Find Your Perfect Modern Detached Garage
The New Holland Supply team has more than two decades of experience matching customers like you with their dream modern garage designs.
Our team will provide you with all of the supplies you need to construct your modern-style garage. We're a one-stop shop for modern garage plans, from custom doors and windows to roofing and siding solutions.
Want the materials to build your contemporary garage today? Our friendly team of experts is ready and able to help with any type of modern detached garage you want. Reach out to us online now to discuss your modern garage ideas and we'll give you a transparent price quote.