5 Different Types of Barns You Can Build
Barns are used for equipment storage, providing a home for herds of horses, and even serving as a beautiful space to gather with friends. Since barns fulfill very different roles, there is a wide range of different types of barns that are built with different layouts, styles, and accessories. To help you find the right style barn for your needs, we're highlighting all of the most common barn structures right here.
At New Holland Supply, we sell horse barn kits and horse barn materials that homeowners, hobbyists, and professionals rely on. Explore all of the different types of barns you can build with us – and discover the benefits of each. However, if you'd rather talk to our team, we're standing by to help you find the right kit and get you the price to deliver it!
There's no question that not every barn has the same job to do. However, when you build with New Holland Supply, you can count on the highest quality materials for your space. From stables for horses to gorgeous and rustic social spaces, you'll find what you need here. These are the most common pole barn structures and what you need to know about each:
Popular Barn Structures: Benefits of Each
1. Single-Story Center Aisle Barn – This type of barn is designed around a center aisle which has horse stalls on either side. You can customize the size of the barn itself, along with the number of horse stalls, to how many horses you'll need to board. This design type is ideal for comfortably caring for the most horses at the best price point. Unlike some of these other barn structures, this type of barn only has one story, meaning that you'll need to find storage space among the horse stalls.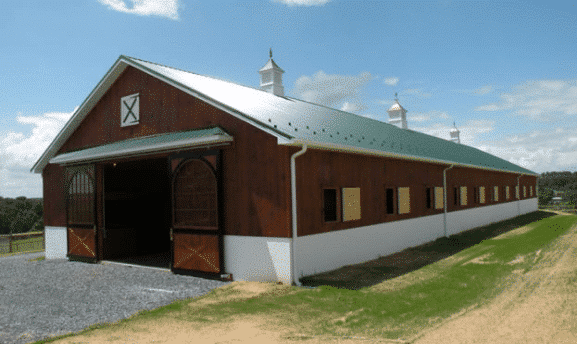 2. Lean-To Barn – Lean-to barns expand on the center aisle barn structure with a crucial add-on. By adding one or more lean-tos to the exterior, you enjoy the added ability to work with your horses in the rain or snow. This is a crucial advantage that makes this barn type a popular choice among people who work with horses for a living. Lean-tos are especially helpful in 4 season climates, where snow fall is a factor. In addition, the lean-tos make the barn look larger and even more impressive.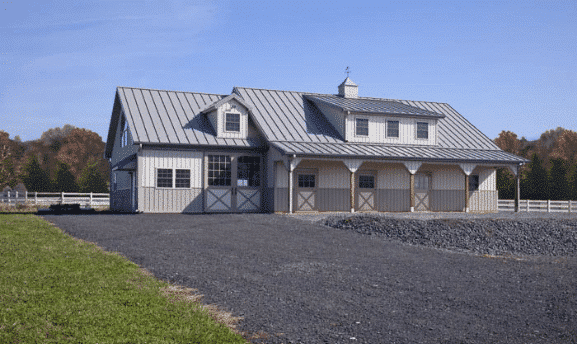 3. Two-Story Center Aisle Barn – A fantastic combination of looks and practicality, two-story center aisle barns are one the most dependable choices for working stables. When designing this space, you have a lot of leeway to customize the specifics to your business. While the first floor can be dedicated to spacious horse stalls and wash stalls, the top floor can be used for everything from an office or living quarters to a trophy room. From a style standpoint, the two-story profile looks impressive and really showcases the classic barn style.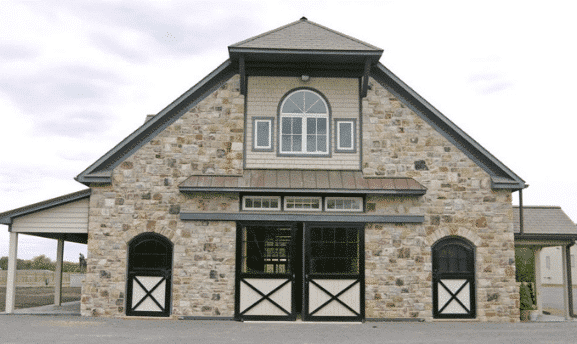 4. Luxury Barns – Each of the luxury barns we've contributed to is a work of art in its own way. A very different type of barn, these luxury stables are created to show off gorgeous architectural designs as well as comfortable interior spaces. These barns are often used for entertaining, either as a centerpiece of your event space or as a fixture on your private ranch. However, as fully functional barns, they can also be used as a stable as well. Some of the popular traits of luxury barns are ample windows, stonework, full second stories, grand cupolas, large lean-tos, and much more!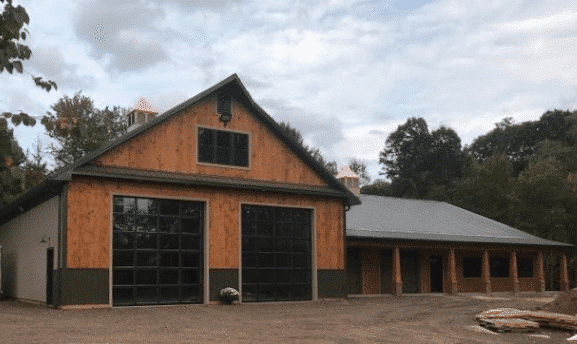 5. Run-In Sheds – A space-efficient and cost-efficient alternative to all of these primary barn structures, our run-in sheds offer a versatile open space. These structures are great solution for supplemental storage or for providing space when horses are on pasture.
One or more of these barns catch your eye? Talk to our sales and design team!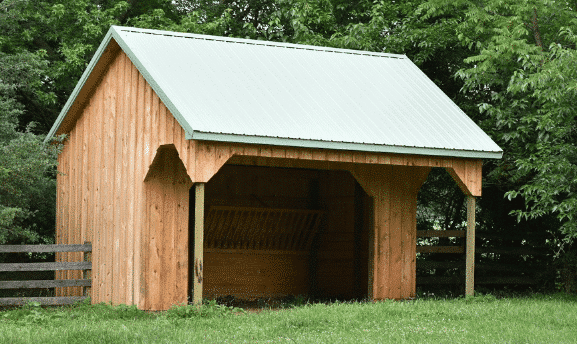 Also Offering High-Quality Garage Kits
While the diverse range of pole barn structures may have been the focus of today's blog, we are also known for selling high-quality garage kits. These garage kits provide homeowners and professionals with everything you'll need to build the extra storage space you'll rely on for decades to come. Just like our barn kits, our garage kits can be customized to your exact specifications with ample unique additions.
If you don't have use for a horse barn but still are drawn to the rustic look, we have options for you. We offer garage kits that resemble horse barns but come with standard garage doors and an interior space meant for storing equipment or vehicles.
See more of our rustic garages right here.
Get Prices on Different Types of Barns Today
One of the things that sets New Holland Supply apart is the personalized service that our sales and design team provides. Our experts will work directly with you to customize the barn kit you're buying to match your needs, your sense of style, and your budget. Reach out to our team to discuss pricing on the different types of barns – and to lock in your quote.